9 Actors Who Do The Same Thing In Every Single Movie
It's no shame to say that we all have a comfort zone – we are naturally better at some things than others. It's therefore no surprise that our favourite actors tend to end up in similar roles. Take Benedict Cumberbatch for instance. He's a weird looking (yet very handsome) man who oozes intelligent, 'switched on', quirky kinda vibes and could probably recite the entire encyclopedia at the speed of light. It's no wonder that he ends up playing eccentric, sometimes socially inept individuals. And it's not just Cumberbatch, loads of actors are up to the same thing, the sneaky f**kers.
Tom Cruise
The first one of you to name a film in which Tom Cruise isn't in a running shot wins, well, nothing. But the point still stands. Whether he's running towards or away from danger, he's the human equivelant of a treadmill. It's probably a rouse to distract us all from how short he is. Want some advice, Tom? Take an uber; that way we'll never see how short you are.
As seen in: War of the Worlds, Mission Impossible 1-4, Collateral, Minority Report and Oblivion. 
Jennifer Aniston
It's not a bad gig to land yourself as the go-to 'girl next door' of Hollywood. Of course, Jen proved her worthiness in Friends, perfectly playing Rachel as the cute, fun loving, gawwwwgeous NY gal that she is, making pretty much every guy's head turn. Since then, it's been pretty smooth running. Her roles are always geared towards pairing off with someone at the end. I'd like to see how she handles some of Jennifer Lawrence's roles or, 'ambitious Jen' as she's known in Hollywood (she's not). I mean the titles of of all Jen's films say it all really.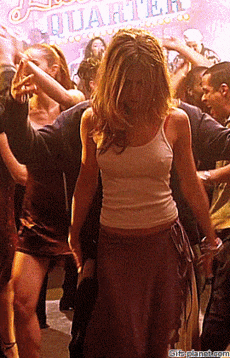 As seen in: She's the One, Picture Perfect, The Object of My Affection, Along Came Polly, The Break-Up, He's Just Not That Into You, Rumor Has It, Just Go With It and MANY MANY more.
Johnny Depp
If the titular role is a certified maniac then Depp is gonna be all over it. Admittedly, this isn't a new observation, but did you notice that Depp's roles always wear hats? It's true, yannow! Back in 2016, I made a New Year's resolution to become a 'hat person'. It lasted about 4 months, so a pretty impressive run for a NY resolution. They top off an outfit and add oodles of personality and as we know, Depp is anything but a conformer. He wants to stand out.
If you think about it, hats have defined his characters. Jack Sparrow wouldn't be a pirate without his hat, Lerner wouldn't be a soldier without his hat in Platoon and The Mad Hatter literally has a hat in his name.
As seen in Pirates of the Caribbean 1-4, Alice in Wonderland, The Lone Ranger, Charlie and the Chocolate Factory, The Rum Diary, Public Enemies, Fear and Loathing in Las Vegas, Platoon, Dead Man.
Jeff Goldblum
Uhhhh, where to ummm s-start with Jeff uhh Goldblum. I am yet to figure out whether his habit of tripping over lines is simply a result of not learning them or that he's high af. The first film you watch with the Blum in, you'll assume that it's a tick belonging to that specific character. Then it dawns on you that he does it in every film ever.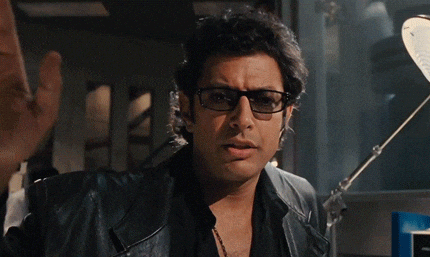 It does help that he generally plays the nerdy types who get away with being terribly socially awkward, but it does make his long winded explanations very long winded indeed. In comparison, if he was playing Thor and doing the same thing, I would have trouble accepting him as a superhero.
Melissa McCarthy
She's a funny funny lady, but lots of her punchlines come from insulting the (most of the time) skinny protagonist. By being a 'bigger' lady, her characters constantly make the protagonist feel weak and pathetic with lines similar to 'I could snap you over my leg like a twig before you've even had your first pancake'.
Importantly, she shamelessly flaunts her 'larger-by-Hollywood-standards' body, so top marks to you, Mel.
As seen in: The Identity Thief, Bridesmaids, This is 40, The Heat, Spy and Charlie's Angels.
Morgan Freeman
You know exactly what I'm going to say here but long may it continue. He is the distinctive voice that pervades over every film he's in. I know I'm not alone when I say that I feel an overwhelming feeling of security when I hear his voice, immediately trusting every word that comes out of his mouth. No wonder he's always explaining things in movies and frequently steps into the role of God.
If I were him, I'd insure my vocal chords for many many millions.
As seen in: The Shawshank Redemption, Bruce Almighty, Evan Almighty, Unleashed, Lucy, The Dark Knight, War of the Worlds, High Crimes.
Natalie Portman
More like Natalie Panicman, ammiright?? I don't know about you, but I can't really relax when I'm watching Natalie Portman, but her characters tend to make me feel very uneasy. Take The Other Boleyn Girl for instance. To make the absolute playaaa that is Henry XIII notice her, she tries to shag her brother and in Black Swan, she rips her fingernails off and has an intense sexual hallucination.
Unlike Jennifer Aniston, Nat is cast in some pretty intense roles. Even in her token rom-com No Strings Attached she's a bit unhinged. If you want a cosy movie on a rainy Sunday, steer clear of the Portman.
As seen in: The Other Boleyn Girl, Black Swan, No Strings Attached.
Samuel L. Jackson
Oh he loves a good old fashioned yell does Samuel L. Jackson. Indeed, most of his movies dedicate a slot to Jakson which gives him the opportunity to intensify his glare and wax lyrical about why things are f**ked up or that they're on the way to getting f**ked up. It's not surprising considering his performance in Pulp Fiction many moons ago has gone down in film history as one of the most epic monologues of all time.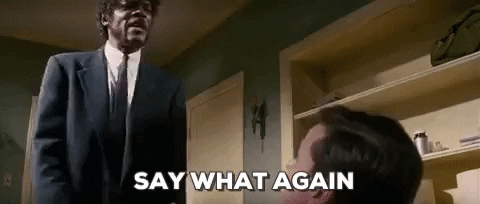 It's all about to get f**ked up, man.
As seen in: Pulp Fiction, Deep Blue Sea, A Time To Kill, Snakes on a Plane, The Negotiator, Django Unchained, Losing Isaiah, Unbreakable, The Spirit.
Shia LaBeouf
Shia is certainly not shy (had to be done) of the word 'no'. In fact, it's his favourite word of all time, which could been seen as a negative trait in many people, but not for Shia. If anything, he's made a career out of it, repeatedly saying the word in as melodramatic a fashion as possible, like this: 'No! No! No!'
I'd like to see how he fairs at the Yes Man challenge.
As seen in: Transformers 1-3, Disturbia, Indiana Jones and the Kingdom of the Crystal Skull, Eagle Eye.
Will you ever see these actors the same again? What would your 'thing' be?
Images via Giphy